LOTs OF NEWS!
1. So there is a lot to talk about. A lot of pictures to share. And a whole quippel of stories to tell. So sit back and let the mouse do the talking.
2. These days in Japan it is the Cherry Blossom festival where everyone gets out there picnic baskets and heads off to the park.
2a. My first party was in MANIKE park with my students from the lifelong learners class.
The park is especially beautiful and it is one of my favorite places to have a CB party. It is a small pond with a small bridge that leads to the island that sits in the center. All around the pond are CB tress and in the spring it is quite and warm. Only it wasn't warm. It was cold. And after an hour and a half we headed to ITOs house.
2b Ito has a wide and spacious house that even has an indoor garden.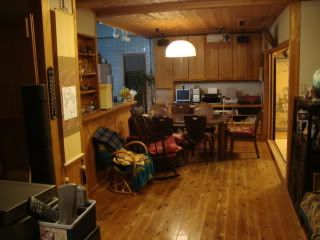 The house had a woody smell and even though it was still small it had an open feel.
2c Ito had a large collection of Japanese things including a samurai sword which I am seen sporting in this photo:
Of course the blade was a flimsy wood. Knives are strictly prohibited in Japan as are other things like larceny, arson and denying health care coverage to children.
Other pictures of the collection
here
|
here
|
here
|
here
|
here
|
here
2d Here are some of the people who came to the event.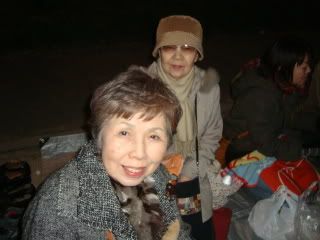 This is ETSUKO and YASUKO. Etsuko speaks very good English and has a daughter who lives in LA. She has a strong personality and was sort of the default leader of the group.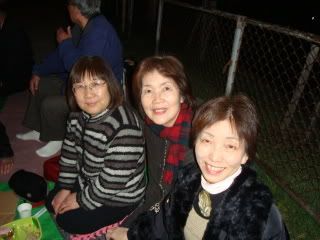 Here is Kayko and Shizuko and a woman I have never seen before in my whole life. Kayko was very funny. SHizuko gave me a big white book entitle Prayer in my life or something. I forget the title.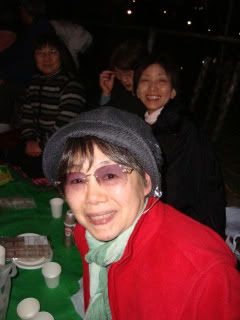 Here is Tarutani. She owns a small cigarette store and has been married for 50 years. And they have been happy funnily enough.
2e On one day I went out with HONZA and had a festival with his friends..
2f On SUnday I had a bbq which turned out to be a lot of things. Fun may be one word. Disaster may be another.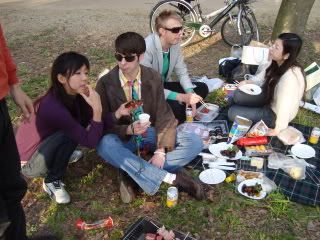 I wanted to have a BBQ so I invited some of my cool friends. We met at the station and walked out. At one point the group broke up because I had to go back to the station. Instead of waiting for me they went on ahead and it was a half an hour of frantic calls before we got back together. We got back together by going back to where we originally met.
So the park was mad crowded but I just happened to meet Helen. She was having a party and told me to join her. So I did. It was a small place tucked in between the porta-potties and the garbage. There was a few unsmiling Japanese people who didn't even say hi. So we trucked across the way and found a place that was BEHIND the porta-potties and next to the garbage. She how we moved up in the world!
My BBQ was a disaster and anyone who had the unique pleasure of missing it should feel blessed. It was my first BBQ and we started the fire by pouring on the lighter fluid. Imminently the BBQ became a 6 foot column of blue and red fire. Thinking that we were going to miss the flame I tossed on all the meat which in the end lent it a horrible lighter fluid like taste.
Quit a few people came including a girl I was interested in. She ended up giving her number out to a few of my guy friends. I may not be able to BBQ but I am on kickin' matchmaker.
Here are some pixs from the party:
here
and
here
.
3. SWIM MEET
I went to my first swim meet. And I arrived late. Message to future participants. Don't go here:
Go here:
My meet was a resounding something or other. My start as a swimming pro was inauspicious. When you start a race you have to jump off the stand which I did but then I belly flopped and my goggles fell over my mouth. By the time I finished the race everyone had already gotten out of the pool. THe 100 meters went well enough. I got a 1:27 which is the bottom end but well within the bounds of not-embarrassing. Here is a pix of my team mates and one random girl: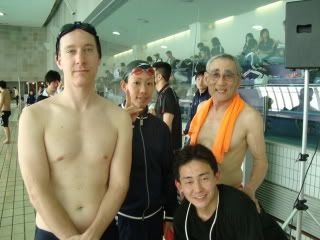 4. KICK ASS PIZZA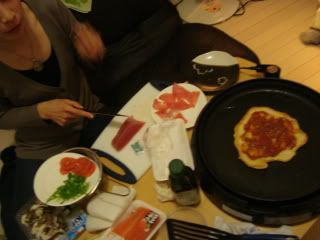 Had a friend over for some piZZ. Here is the final product. Note the salon. Can you ever go wrong with salmon?
5. Girl you will see and hear much more of in the future...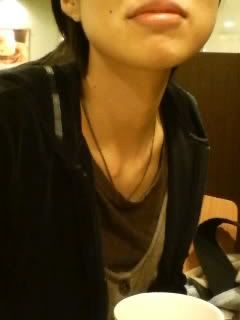 'enough said.
6. Present for my birthday. Hand crafted Japanese ceramics form Kyoto: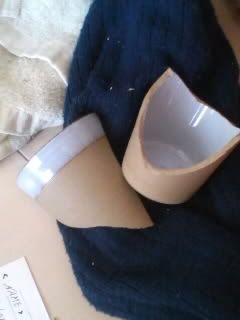 Broke it before I even used it once.
7. FUnny..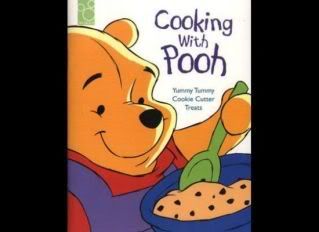 8. More funny..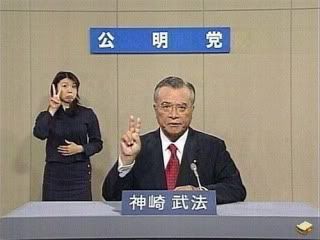 9. View from my window: