Rainy Saturday....
1. MOM AND DAD! I HAVE BEEN TRYING TO CALL YOU! IS YOUR PHONE OFF THE HOOK?
2. 5k Race
I ran a 5k and I was disappointed. My time was 19:36 nearly a minute slower than my best time. It's funny, I got 16th out of 480 people but you know, that doesn't make me feel any better. Just because everyone sucks doesn't make you a good runner.
3. View from my room...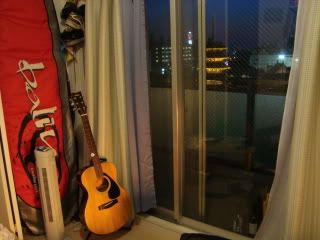 4. Guy sleeping. Just thought you'd like to see this picture.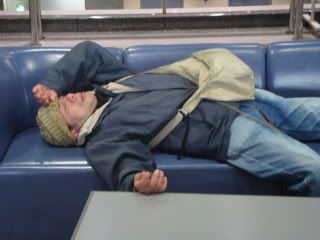 5. THE HOMELESS GUY IS BACK!
He disappeared for awhile but now he is back. Welcome home homeless dude! We missed you!
6. A crab that looks like a long lost samurai warrior:
7. I never buy English books but today I made an exception...
not pictures: COLLAPSE by Jared Diamond and EMERGENCY by Neil Strauss.
BUT I went to the book store and the books were on sale for only 700 yen which is about 50%. Jared Diamond is one of my favorite authors and I have been looking at his book to buy but it was always too expensive. Neil Strauss is a just a rocking guy who has taught me a lot about life and you can never go wrong slurping up a copy of any print edition from this guy. In the picture you see a guitar book which seemed like a handy book to have. Copernicus book just felt interesting. And the book by Temple Grandin is a fascinating book about a woman who can speak with animals. Temple has autism and it is through this perspective that she has a unique view of the world.
8. Cherry blossom season is just around the corner. And I am so excited!
9. SURFING SEASON STARTS NEXT WEEK. Will be surfing next week. ALSO got my first official swim meet.
10. Videos with me in them.
Here
and
here
.
11. Today was my last day at SEIDO a school located in Kobe. The classes were really good and the students were really good. I'll genuinely miss that little school.