SNOWBOARDING!
1. Went to Biwaco. Biwaco is Japan's largest lake and it is at the foot of a large mountain.
1a. And the mountain is just 2 hours from Osaka.
1b. Did I mention 2 hours by bus?
1c. I didn't mention it? Well then please refer to 1b.
1d. Please gander at my picture. It is me with my Aussie friend Chris.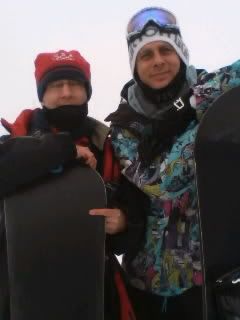 1e. Chris really has this ability to ride slipper slides of something that are going very fast. He is a good surfer and after less than a year he mastered snowboarding. Snowboarding is rocking cool and i had a lot of fun doing it. I bit it quite a bit but I because I toppled into snow I came out in one piece. Chris was really helpful in teaching me and I think he should be some sort of coach. Even life coach. A good coach pushes you. After my first run he said it's time to move onto something steeper. My first reaction was to protest. But I went with his advice and it really paid out. The trail was steeper but I immediately started getting better. By the day I was bounding down the hill on my wee little snowboard. My book reading mums and dads would be proud.
1f. Planning on going back next Month (March 1st or 8th, a Monday).
2. Here is another view out my front door picture.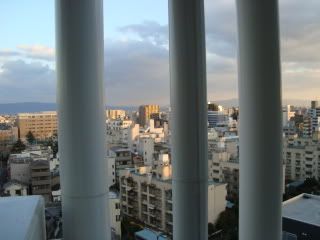 3. WENT TO A JAM AT A PLACE CALLED TEN-ON. Played three songs: Autumn leaves, All the Things you are and one other.
3a. It was nice to be back in the music biz. My good friend William dropped by and it is always good to have cool friends show up and hear you perform.
4. My sisters birthday is coming up!
4. Next jazz performance will be April 25th at 2pm at friend's wedding party.