My little Troopers
Here are my little troopers.
I have a class with three kids and they get a kick out of the weirdest things. Today, the obsession was with TAKING PICTURES OF THEIR NAMETAGES.
Don't ask me how this originated. Someone made the suggestion to take a picture of their name tags and soon they worked them up into a frenzy each of them chanting "let us take a picture of name tags" in their tiny Japanese girl voices.
So, with out further ado, I present to you the Wednesday 4:30 Photo exhibit.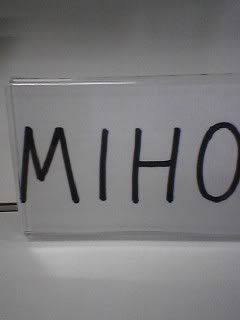 They took this one just for kicks. I know it doesn't fit into the theme but there we have it.