Random thoughts from Osaka...
HELLO WORLD!
This is Japan where everything is clean and cool- even the man-hole covers.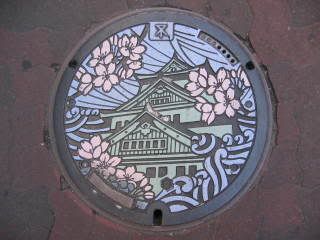 This is a semi-love-letter I got from a girl before I before I left for Japan. I call it a semi-love letter because she doesn't love me but she still gave me a love letter. Oh well, at least I got something.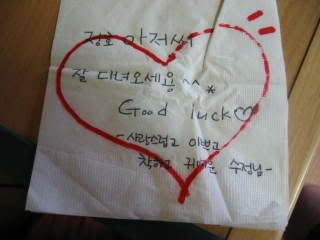 In Japan there is a general election going on. Here is a poster for one canidate. Look at his raised fist, his determined fist in his eyes. "Hurry up and take the picture! I NEED TO TAKE A FUCKING DUMP!"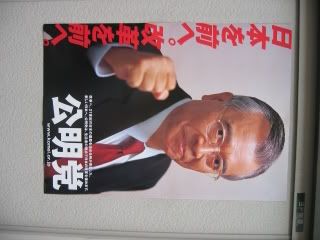 This cat is NOT FUCKING GETTING AWAY. He is related, I believe, to the
CHICKEN WHO IS NOT FUCKING GETTING AWAY
, the Thiland chicken who was locked in several cages.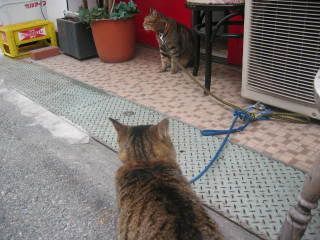 WONDER TWIN POWERS ACTIVE!! Person One: Form of a funky smelly sock foreigner. Person two: Form of a Japanese politican whoo needs to take a dump.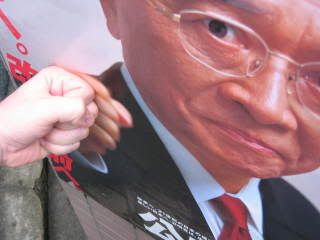 Hay! What is a MEXICAN guy doing on my post about Japan?!?!
HAHA! This is Mezeamorto Gonzolas! I have taken over this BLOG! All you post belong to US! The new name of this blog is LETTERS FROM THE REVOLUTION. Do not resist! We will shove a burritto in every oraface of your body and read you bad poetry through a Mr.Microphone using a Chiwawa Taco Bell accent.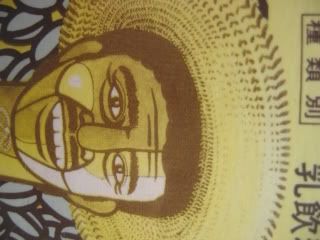 I found out later that the reason these cats are tied up is that they are so CUTE and you would want to steal them. I pet this wonderful creature for 10 minutes. She rolled on her back and looked up to the sky in estacy as I rubbed her stomach. Oh if only my ex-girlfriends were so easy to please...
Serperated at bith?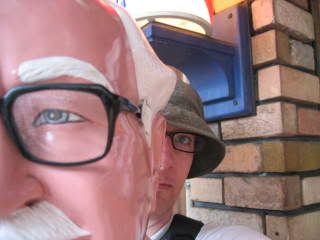 This is STARBUCKS which is so amazingly successful because they have a forumal that no other coffee shop in Japan seems able to cpoy: NO FREAKIN' SMOKING. Look at how long the line is. it is crazy how buzy Starbucks is at any given time. The only reason I attend Starbucks is because, again, the super-secret, super-succesful, un-copy-able forumela, NO SMOKING.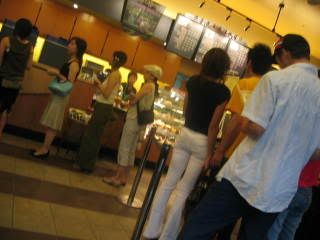 I was so nervous taking the picture. At any given time there are several women struting about. I didn't want to seem like a perve and get caught taking their picture. I was so nervous that I took a shot of the floor.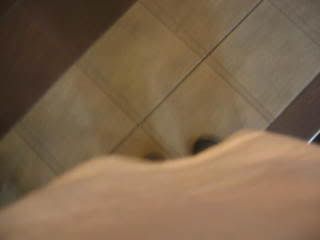 Me to old Japanese guy: HAY, I'll pay you five bucks if you shave your hair and put on this crazy costume..
Japan is crazy about bikes. This is an average parking lot.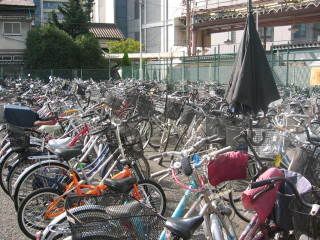 Unfortunately, it isn't cool work out biking. It is annoying, ride on the sidewalk and run over the foreginer while he is walking home from the supermarket biking.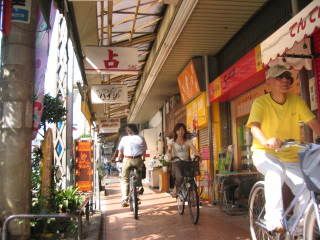 Japanese are also mega hip on VENDING MACHINES. What is this one? It's named HAPPY FAMILY. Hmmmm... what could it possible be? How about CONDOMS? Ding! Ten points for Letters-to-mom blog writter.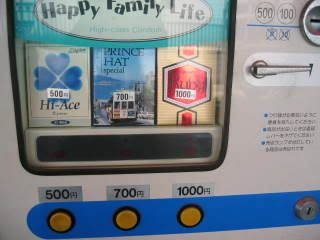 Here is an interesting dog shaped vending machine. Shove the money up his ass and reach down his throught.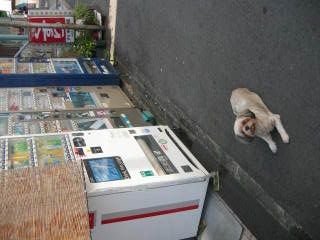 That's the random thoughts of the day kids. Hope you were able to see it through the crack haze that you are undoubtable in.