MY FIRST JOB INTERVIEW...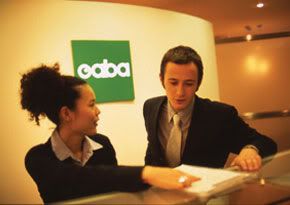 Well, I haven't been overly ambitious about looking for a job. There are a lot of jobs out there but in order to get the job you have to crawl over to the computer, type in your pass word and send out your resume. So as you can see, this great barrier to employment was far too great for me. There was one place that caught my eye. It's name is GABA.
What attracted me about Gaba was that you can SET YOUR OWN SCHEDULE. So, say you wanted to work 10 hours on Tuesday and Thursday? Gaba will be down with that. Say you wanted to work Weekends only? Say you were a work-alcoholic and wanted 45 hours. All of that is game.
Also, it's teaching adults. One to one. Pretty easy.
So I applied and they asked me to come down for an orientation. There were 4 other people: a German girl and three other Americans plus some woman with a foreign accent who arrived late.
At first the German girl didn't impress me. She was kind of sullen. But I liked the way she sold herself as an English teacher. She took her disadvantage (not being from an English speaking country) and turned it into a plus by saying that "I have been learning foreign languages all my life." Very clever miss German girl.
I arrived almost an hour early. Riding the subway in Japan is an expensive obstacle course. To give you an example: on my way out to Gaba it cost $2. This is a short distance and luckily Gaba was on the same line as my house. There are many subway and train companies in Japan.
So I made it and a bald guy named John dived into the presentation. He went on about Gaba being dedicated to growth and those who want to join a market driven career resource company should join. Etc.
He also talked about the image of Gaba and showed the text books which seem to be based around characters. The business English class is marketed towards the 30s and 40s career woman. The star of the text book is a woman wonderfully named Mi-Ho! Mi-ho has lots of problems, none of them name related. They have to do with the fact that she is talented and smart but her boss makes her serve tea.
There are other text books. On the cover of what I guessed to be beginning English book were pictures of men who looked straight out of the Village People. One guy was a fireman. Another guy was barring his captain American chest and I don't know what job it was but it must have been a good job since he had a big smile on his face. As gay as they sound, apparently they are NOT gay because the guys were all flanked by two women.
Then he talked about the classes: one on one, you choose the schedule. The pay to start is low: $15 for a 40 minute class. The longer you stay the more perks you get.
After that he invited us into a room for a one on one interview. He looked at my resume, said some nice things, asked if his presentation was clear and then lead me to the door. Some guy named Barry will call me this week if I get the job.