STUDENTS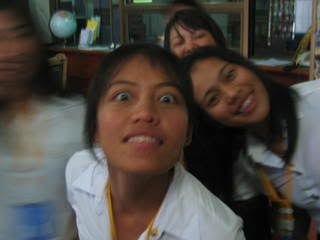 (Tar, Ai and Eve)
The STUDENTS that we taught during our one-month at TESOL INTERNATIONAL were really good. They were really playful and they enjoyed learning English.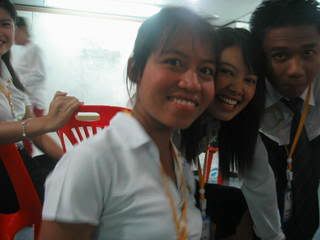 (Tar-again-she likes the camera, Eve and Pho)
Teaching Thai students was a lot different than Korean students and I was always being surprised. I had a lessons on tattoos and everyone had something to say. Pho's mother had a tattoo on her thigh he declared. Eve said her friend had a tattoo on her butt. "What was it?" I asked. "Pokimon!" she said and everyone laughed.
The PETS topic went over very well too. Everyone had a pet and not just dogs and cats. Some had fish or birds. One student had a chicken.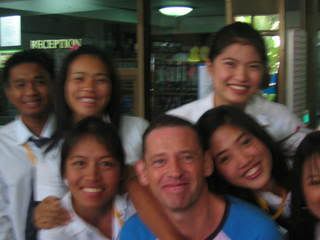 (Pho, Ai, Tar, Barrie, Aun-chung, Mot and Eve).
In all there was 6 students. They were called the "interns" because they were interns. They came and lived for free in the dorms. They were always doing busy work around the school. Sometimes cooking. Sometimes cleaning.
I have about 50 million pictures with Tar in them. The most dangerous place in Thailand is between her and a camera. Whenever she heard the whirl of my camera being opened she was standing right there in front of me.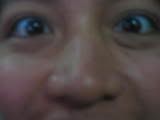 But I did manage to get some snaps of other students....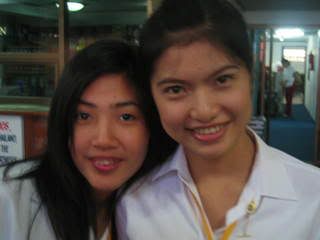 This is Mot and Aun-chung. Aun was very flirtatious. When you asked her if she had a boyfriend she would reply "yes, many!" Mot was a lot of fun. I liked her ambition. She wants to be a stewardess so she can see the world.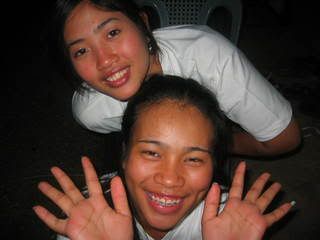 (Ai and Mot)
This is Ai and Mot. Ai was the most quite of the group, which is to say, she was very loud and rambunctious. This group had a lot of energy.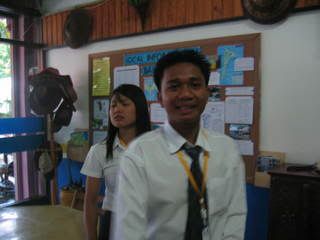 (Pho)
Here's Pho. He's the only guy in the group. Alas. Poor Pho. He had a great sense of humor. He'd get up to say something and we could tell he was going to say something funny.